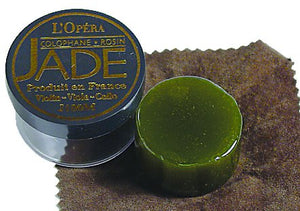 Jade rosin for Violin, Viola, & Cello.
Jade has long been the rosin of choice for professionals and advancing students. It's high performance grip regardless of the seasons or conditions and low dust makes it one of our favorite rosins.
Jade is also the go-to choice for players looking for a Hypo-Allergenic rosin, as it is made without pine resin. The near absence of dust is great if you haver allergic sensitivities to pine dust. 
Each rosin is mounted on a protective velvet cloth wrap and comes with a protective container.