Testimonials
"I frequently travel nationally and internationally giving concerts and have been concertmaster of Lincoln's Symphony Orchestra for many years. Since I live on the East Coast I normally have my bow re-haired in New York City though many times I need bow re-hairs when I'm on the road. I'm so happy that when I come to Lincoln I can get a great re-hair at the Violin Shop! Thanks David."

Anton Miller - Lincoln's Symphony Orchestra Concert Master and International Performing Artist
"As a violin teacher, I 100% recommend my students go to the Violin Shop for rentals and purchases. David has been such a partner for string music here in the greater Nebraska area. He has even worked on my instrument and the work was excellent."

Julia Marble - Teacher & Owner Marble Music
"I am ecstatic to find a world class violin shop in Lincoln!! My parents have retired here, and it really helps my performing life (I live abroad) to have such a reliable place to get rehairs and other important work done without having to stop in NY, Boston or Chicago. Thank You, thank you David for your excellent work!"

Ellen Jewett - International Performing Artist and former member of the Audubon Quartet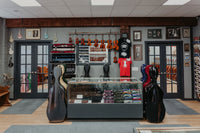 About Us
Since 1982, The Violin Shop in Lincoln, Inc. has been serving professional players, educators, students, and collectors in Lincoln and throughout the United States.
Our vast selection of string instruments, bows, and accessories guarantees that musicians from novice to professional will find exactly what they are looking for and more.
Learn More
Repairs & Services
The Violin Shop in Lincoln is the most complete repair and restoration shop in Nebraska for violin family instruments. Located in the historic Near South Neighborhood, all repairs, rehairs and restorations are performed in-house by our team of highly trained luthiers, using time-tested, state-of-the-art methods and materials that stress a conservative approach.
Begin Your Repair